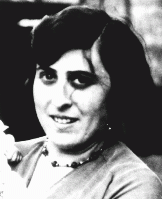 Ida Baehr Lang
Born: February 2, 1909
Ruchheim, Germany
Ida was born to Jewish parents who owned a dry goods store in a small town in the Rhine River valley. As a teenager, Ida loved to bicycle with her cousin, Luise, in the scenic valley. After graduating from school, Ida helped her parents run the store. When she was in her early twenties, she married Fritz Lang, who owned a dry goods store in nearby Lambsheim, where they lived.
1933-39: Fritz and I have hired a housekeeper to help take care of our new baby girl, Freya, while I work in the store. More and more Jews are leaving Germany now that the Nazi party is in power. My mother-in-law has sailed for New York with Fritz's brother, and my dear cousin, Luise, just called to wish me goodbye. And us? Fritz is hesitant to give up the business, and I don't know how I could ever leave my parents.
1940-42: Fritz and I and 6-year-old Freya have already been deported to two detention camps in France. When we arrived at the camp at Gurs, it was winter--cold and rainy--and we had only straw to sleep on. Freya came down with a high fever and severe earache and almost died. Now, at Rivesaltes, where we've been moved, we have a chance to get Freya out of the camp to safety through an aid society that is arranging to hide children with French families in the countryside. I say goodbye to Freya through the barbed-wire fence.
In September 1942, a few days after Freya left the camp, Ida was deported to Auschwitz, where she perished. Freya survived the war and was reunited with her father in 1946.