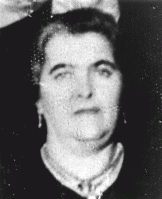 Hannah Rosenblat
Born: 1893
Zvolen, Poland
Hannah was one of six children born to Yiddish-speaking, religious Jewish parents in the town of Zvolen in central Poland. She married Jozef Rosenblat, a Jewish shoemaker also from Zvolen. After living in Warsaw for several years, Hannah and Jozef settled in the industrial city of Radom near their hometown. There, they raised their three sons.
1933-39: When Germany threatened to attack Poland in August 1939, Hannah's youngest son, Herschel, was called up by the Polish army. On September 1, 1939, Germany invaded Poland. Hannah worried about Herschel, who eventually returned home safely. German troops evicted many Jews from their homes, including Hannah's two eldest sons Elya and Itzik, who were living on Radom's main street. Elya's family moved in with Hannah and Jozef.
1940-42: All of Radom's Jews were forced to live in one of two ghettos established by the Germans in April 1941. Hannah and Jozef moved in with Itzik, their son, who was living in a shack with his own and another family. Itzik supported them by making clothes for the Germans and smuggling food into the ghetto. In August the Germans began liquidating Radom's two ghettos. On the night of August 17, 1942, Hannah and her husband were rounded up, marched to the railroad, and herded into a boxcar.
In August 1942 Hannah and her husband were deported to the Treblinka killing center, where they were gassed upon arrival. Hannah was 49 years old.