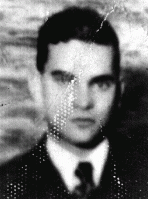 Elya Rosenblat
Born: 1912
Warsaw, Poland
Elya, also known as Eli, was the eldest of three sons born to Yiddish-speaking Jewish parents. When Elya was a child his family moved to the industrial city of Radom, located about 60 miles south of Warsaw. After completing school in Radom, Elya apprenticed to become a women's tailor. Eventually, he became licensed as a master tailor.
1933-39: Elya married in 1936 and had a daughter one year later. He and his wife lived on Zeromskiego Street across from Elya's younger brother, Itzik, who was also a tailor. On September 1, 1939, German troops invaded Poland and entered Radom seven days later. When the occupying Germans evicted all the Jews from Zeromskiego street, Elya moved his family to his parents' home.
1940-44: In April 1941 Elya's family had to move again when the Germans forced all of Radom's Jews into two ghettos. In 1942 the Germans assigned Elya and other master tailors to work in an SS shop. During the German liquidation of the ghetto, Elya would hide his daughter in a suitcase whenever the Germans came searching. When the Germans liquidated the shop where Elya worked, the Rosenblats were deported to Majdanek. From there, they were sent to Plaszow, where Elya was forced to work in a salt mine.
Elya caught typhus and starved to death in Plaszow. He was 31 years old when he died. His daughter was killed when she was discovered in the barracks, but his wife survived.