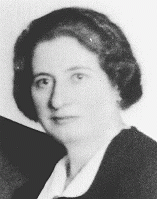 Ida Edelstein
Born: March 6, 1888
Hostoun, Czechoslovakia
Ida, born Ida Kohn, was the oldest of four children born to a Jewish family in the village of Hostoun, near Prague. Her father owned a grocery store in the village, and also recorded the birth, death and marriage certificates in the Jewish community. In 1912 Ida married Josef Edelstein and they moved to Vienna. By 1920 the couple had a son, Wilhelm, and a daughter, Alice.
1933-39: In March 1938 the Germans annexed Austria. In the next few weeks, Ida, along with other Jews, was forced to scrub sidewalks. Often, townspeople jeered at the Jews while they scrubbed. Many Jews were deported, and attacks on Jews went on almost nightly. When Ida's children left for Prague to escape the Nazis, Ida was in despair.
1940-44: In May 1942 Ida was arrested. She was deported with Josef to the Theresienstadt ghetto. There, they found Alice, whom they had not seen since she fled to Prague. In 1943 Alice was put on a "labor" transport. Ida and Josef did not want to be separated from her so they volunteered to go; they were all deported to Auschwitz. In 1944 Ida, forced to stand naked during a selection of able-bodied women, was directed to the gas chambers. Alice begged for her mother's release.
In 1944 Ida Edelstein was gassed at Auschwitz. Her daughter, Alice, was the only member of the Edelstein family to survive the war.