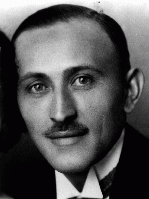 Jeno Katz
One of eight children, Jeno was born to religious Jewish parents in the northeastern Hungarian town of Buj. The family later moved to the village of Zalkod, where Jeno's father ran a general store. His schooling over, Jeno became a cabinet maker. After he married, he and his wife Eloise settled down in Sarospatak, a picturesque town with a ruined medieval fortress and the Windischgratz castle.
1933-39: Jeno's sister Sadie, who had immigrated to the United States, came to visit her parents in Zalkod. At the time, Jeno and Eloise had two children named Ersika and Zali. The reunion was joyous, despite Sadie's fears. On the trip over, their ship, the Bremen, had stopped in Hamburg, and Sadie had been terrified to see Nazis marching in the streets.
1940-44: In March 1944 German forces occupied Hungary. That April, on the Jewish holiday of Passover, Hungarian gendarmes, acting under Nazi orders, began to herd all the Jews in the countryside into ghettos. Some 1,000 Jewish residents of Jeno's town, Sarospatak, were evicted from their homes and crowded for three days into the local synagogue and Jewish school. Then they were transferred to a ghetto at nearby Satoraljaujhely. That May and June, some 15,000 Jews were deported from the ghetto to Auschwitz.
Jeno perished in 1944, though details about his death are not known.