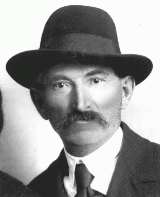 Jakab Katz
Born: 1861
Nyirmada, Hungary
Jakab, a religious Jew, was the father of eight children. In the early 1900s he sailed to America, paying his way by shoveling coal on the ship. In New York he earned enough money to help two of his daughters immigrate. Returning to Buj, he eventually moved his family to Zalkod, a small town in northeastern Hungary. There, helped by his wife, Terez, and his son, Miklos, he ran a store and a farm.
1933-39: Jakab's daughter, Sadie, and her two children, Lillian and Arthur, are visiting from America. The kids love it here--running in the orchards, visiting the gypsy camp and watching the traveling circus. Sadie is afraid for her family in Hungary. On the trip over she stopped in Hamburg and saw Nazis marching in the streets. She is begging her family to return with them. Jakab is 75! And how can he leave his store and farm? He's told her not to worry: It's all so far away.
1940-44: The few Jews in Zalkod, including Jakab's family, have been forced to move to the nearby town of Satoraljaujhely where 15,000 Jews are being concentrated into a squalid ghetto. Hungarian gendarmes forced Jakab's family out of their home after German divisions crossed into Hungary last month. Most of the people here are women and children because able-bodied Jewish males, including three of his sons, have been taken as labor conscripts by the Hungarian army, which has been fighting alongside the Germans. Their food is running out, and they're getting weak.
Jakab, Terez, and about 25 of their relatives were among 435,000 Hungarian Jews deported in the summer of 1944 to Auschwitz. Jakab was 83 when he perished.