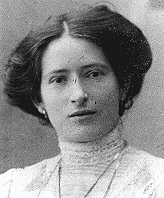 Malvin Katz Fried
Malvin and her eight brothers and sisters were born to religious Jewish parents in the small town of Buj in northeastern Hungary. The family later moved to the village of Zalkod, where Malvin's father ran a general store. The Katz family lived in a sprawling farmhouse with a large garden and fruit orchards. Malvin married Sandor Fried, the brother of her sister Sadie's husband, Hermon.
1933-39: My oldest sister, Sadie, who immigrated to the United States many years ago, has come home for a visit. Her two children, Lillian and Arthur, love playing in the gypsy camp near my parents' farm and helping my mother gather fruit in the orchards. On their trip over, Sadie stopped in Hamburg and says she saw Nazis marching in the streets. She's afraid, but we've told her not to worry: It all seems so far away.
1940-44: Four weeks ago, on March 19, 1944, German forces occupied Hungary. Here in Nyirbator where I moved after my marriage to Sandor Fried, all of us Jewish citizens have been forced to abandon our homes and most of our belongings. We've spent the last few days crowded into the local synagogue. The rough Hungarian gendarmes have searched us and stolen our remaining money and jewelry. Now they've told us that we're to be moved to a ghetto in the county seat, the town of Nyiregyhaza. Then what will happen to us?
Malvin and her husband, Sandor, were among 435,000 Hungarian Jews deported in the early summer of 1944 to Auschwitz. Malvin and her husband perished there.