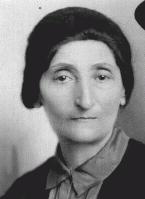 Terez Spitz Katz
A religious Jewish mother of nine, Terez settled with her husband, Jakab, and children in Zalkod, a small town in northeastern Hungary. Jakab ran a general store. Terez tended their sprawling farmhouse. She baked black bread in their wood-burning stove and canned the peaches and plums she gathered with her children and grandchildren from the family orchards.
1933-39: My oldest daughter, Sadie, is visiting from America. She comes with us every Friday when we take the horse-drawn wagon to the synagogue in the next town. We stay with friends and return the next day after sundown. Sadie wants us to return to New York with her. On her trip over, she stopped in Hamburg and says she saw Nazis marching in the streets. She's afraid. We've told her not to worry: It all seems so far away.
1940-44: Four weeks ago, on March 19, 1944, German forces occupied Hungary. Several days ago, rough Hungarian gendarmes ordered us to abandon our house and most of our belongings and to report to the nearby town of Nyireghaza. Here thousands of Jews have been concentrated. We have to live in a squalid apartment and it's hard to wash because it's so crowded. The food we brought from home is running out, and we're becoming weak. What will happen to us all?
Terez, Jakab and about 25 of their relatives were among some 435,000 Hungarian Jews deported in the summer of 1944 to Auschwitz. Terez perished at age 79.