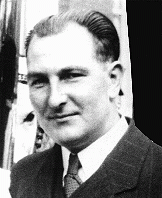 Johannes M. Lublink
Born: March 10, 1912
Amsterdam, Netherlands
Johannes was born to Christian parents and had three brothers and three sisters. His father sold coal for heating systems. By 1933, Johannes was also a coal distributor. Like many other Dutch citizens, Johannes did not approve of Hitler's policies. He especially objected to Hitler's persecution of Jews and Jehovah's Witnesses.
1933-39: Hitler's coming to power in Germany was a threat to all of them. In 1936, Johannes became a Jehovah's Witness. His mother was also a Witness and, by 1938, one brother and one sister became Witnesses as well. Even in the Netherlands his family faced adversity. In 1937, the police protected them from Catholic priests who preached hatred against them during their Bible meetings in Tilburg.
1940-44: The Germans occupied the Netherlands in May 1940. He was arrested by the Dutch police on June 15, 1941. After being detained for several months, he was deported with 50 other Witnesses to the Sachsenhausen concentration camp. Required to do heavy labor, the Witnesses were the only prisoners trusted by the Germans because they never tried to escape. Each morning one of them read aloud a Bible passage, which they'd discuss while working during the day. Sometimes, he'd secretly read from his own Bible that he'd managed to smuggle in.
While being force-marched from Sachsenhausen, Johannes was liberated by US troops near Schwerin, Germany, on May 5, 1945. He then returned to Amsterdam.