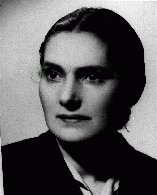 Leah Kohl Rapaport
Born: June 22, 1908
Kamionka Strumilowa, Poland
Leah and her four brothers were raised in a religious Jewish family in the city of Lvov. After obtaining her high school diploma, Leah attended university for one year. In 1931 she married Joseph Rapaport, and the couple settled in Warsaw.
1933-39: The Rapaports lived in the suburbs, and Joseph worked as a banker. Their daughter Zofia was born in May 1933. Each year at the Jewish holiday of Passover, they returned to Lvov to visit Leah's parents. Two days after Joseph was mobilized for military duty in late August 1939, Germany invaded Poland. After Poland's defeat, Joseph returned and the family fled to Soviet-occupied Lvov.
1940-44: The Germans occupied Lvov in 1941. Leah's father was forced to sweep streets and her brother was caught by the Nazis and shot, but he survived. In 1942 the Rapaports managed to return to Warsaw to hide with one of Joseph's former employees. For two years they were confined in an 8 x 10 foot room. Once, they were nearly betrayed when the bitter ex-wife of the employee threatened: "I'm going to tell the police that you keep a synagogue here!"
After the 1944 Warsaw uprising, Joseph was sent to a Nazi camp, where he died. Leah and Zofia made their way to Cracow, where they stayed until the Soviets freed the city.