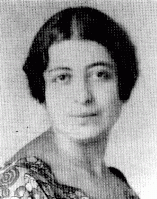 Ludmilla Schatz
Born: November 10, 1896
Tulchin, Ukraine
Ludmilla was one of four children born to Jewish parents in a small industrial city in southwestern Ukraine when the area was part of Tsarist Russia. Ludmilla grew up in Odessa, but she and her mother left in 1919 when Ludmilla's father was killed during the Russian civil war. Ludmilla and her mother emigrated to France and settled near Paris. Ludmilla married, and gave birth to a daughter in 1930.
1933-39: With her knowledge of Russian, French and German, Ludmilla felt comfortable in cosmopolitan Paris. She worked as a piano teacher, and her daughter, Nadine, attended elementary school. Her mother, Rosalia, lived with her. After France declared war on Germany in September 1939, Ludmilla and her family moved to Saint-Marc-sur-Mer, a small village on the Brittany coast, hoping it would be safer there.
1940-42: The Germans occupied Saint-Marc-sur-Mer in June 1940, and Ludmilla moved her family to the nearby city of Nantes soon after. There, local French officials cooperated with the occupying Germans and helped enforce the anti-Jewish laws, especially against foreign-born Jews like Ludmilla. She and her daughter were arrested by the French police in Nantes. Ludmilla was separated from her daughter, and then delivered to the German authorities in Angers. They informed her that she would be sent to "work in the east."
On July 20, 1942, Ludmilla was deported to Auschwitz, where she subsequently perished. She was 45 years old.