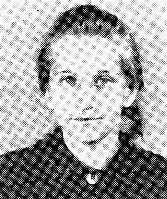 Maria Orlicka
Born: July 2, 1928
Jaworzno, Poland
Maria was born to a poor family in the industrial town of Jaworzno, not far from Krakow, in southwestern Poland. Both of Maria's parents worked. Like her parents, Maria was baptized in the Roman Catholic faith.
1933-39: I took care of the house when my parents were working. I was 11 years old when the Germans invaded Poland on September 1, 1939. German troops reached Jaworzno that same month. Jaworzno was in an area of Poland that became formally annexed to Germany.
1940-44: The Germans arrested me when I was 14 for using black-market ration cards to get food, which they said I then sold at "profiteering prices." I was deported to Auschwitz, and put in the "Bunker of Death," which was near the wall where prisoners from our Bunker 11 were executed every day. For some reason, instead of being shot I was transferred to a slave-labor camp for children in Lodz's Jewish ghetto. My parents, meanwhile, were notified that I had been executed, and my father died of a heart attack from the shock.
Emaciated from typhus, scurvy and malnutrition, 16-year-old Maria was released from the camp on November 9, 1944, towards the end of the war. She returned to Jaworzno.