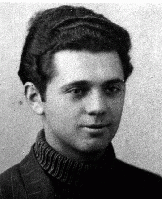 Paul Matasovski
Born: December 17, 1923
Bacau, Romania
Paul was one of three children born to Jewish parents. They lived in a small city with a large Jewish population in central Moldavia. Paul's Ukrainian-born father had been stationed in Romania during World War I, and chose to remain there rather than return to Ukraine after the 1917 Russian Revolution.
1933-39: Our household observed the Jewish holidays. I loved Passover with its special meals and the opportunity to show off new clothes. On the radio we heard about the Nazis in Germany; in our own country, the antisemitic Iron Guard was becoming more popular. One morning in September 1939 I saw signs of the war for the first time: retreating Polish soldiers rode down our street, looking hungry and thirsty.
1940-44: The fascist Iron Guard was in power. Being forced out of public school was the first of many measures I suffered because I was a Jew. My friends and I refused to remain passive. Building a radio and listening to foreign broadcasts were our first acts of defiance. We helped the underground by smuggling news inside soap bars and putting sand in German gas tanks. By cutting electric wires we sabotaged production at a factory where I was a forced laborer making uniforms for the German army.
Suspected of sabotage, Paul was arrested and tortured by Romanian police, but was released just before Soviet troops invaded Romania in 1944. He moved to the United States in 1972.