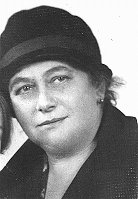 Wilma Schlesinger Mahrer
Born: December 19, 1876
Zolyom, Czechoslovakia
Wilma was the oldest of two daughters born to German-speaking Jewish parents. She married Gyula Mahrer, a Hungarian Jew who had fought in the Hungarian army during World War I. The couple lived in the Hungarian capital of Budapest, where they raised two daughters. The Mahrers lived near their eldest daughter, Kornelia, who had married in 1928.
1933-39: Wilma's first grandchild, Maria, was born on Wilma's 55th birthday. By 1936 Wilma had five grandchildren, three of whom lived in Budapest with her daughter Kornelia and son-in-law, Miksa. In May 1939 the Hungarian government enacted a law that defined Jews as an alien people and limited their rights.
1940-44: In 1940 Wilma's son-in-law, Miksa, was conscripted into the Hungarian army's labor service. Two years later, he was forced to give up his business to a Christian. In March 1944 Germany occupied Hungary. That summer, Jews were moved into houses marked by an identifying Jewish star. Many Jews were rounded up and killed. When Wilma's husband died of illness that year, his family envied him. After Kornelia and Miksa were deported to Germany, Wilma found Christians to take care of her three orphaned grandchildren.
On January 18, 1945, Wilma and her grandchildren were liberated in Budapest by Soviet troops. She remained in Budapest after the war.