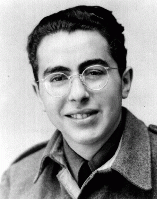 Wolfgang Lachman
Born: May 26, 1928
Berlin, Germany
Wolfgang was the only son of observant Jewish parents living in Berlin. Though trained as a mechanical engineer, Wolfgang's father ran a wholesale kerchief and handkerchief business that he had taken over from his father-in-law. Wolfgang's family lived in an apartment above the business. They enjoyed vacationing at their country home in Neuenhagen, a suburb of Berlin.
1933-39: I began school when I was 5; that year Hitler was named leader of Germany. Every morning we had to sing three songs: the German anthem, the anthem of Hitler's party and a song about reclaiming German land lost in World War I. In 1938 my mother died of cancer. That same year, there were riots against the Jews. My father's store was marked with paint and a soldier stood outside telling people not to shop in Jewish stores.
1940-44: My father died in 1940. I lived with my grandmother until 1942, when we were sent to the Riga ghetto. When I was 14 I was assigned to sort German uniforms. Once I stole shoes to replace the ones I'd worn every day since leaving Berlin, and which had gotten too small and had practically no soles left. But I was caught and taken to the commander, who beat me. He sentenced me to be shot, but then changed his mind. I was issued wooden shoes, and had to carry an iron bar up and down four flights of stairs 100 times as punishment.
Wolfgang was deported to the Bergen-Belsen concentration camp at age 16. He was liberated by the British army in April 1945 and immigrated to the United States in 1946.