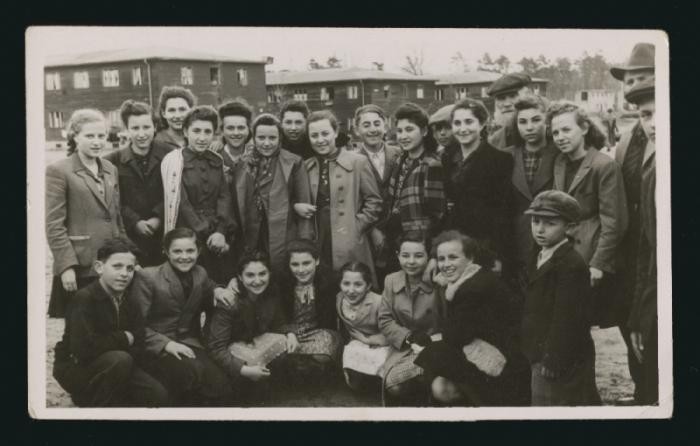 Feldafing Displaced Persons Camp
For the Jews who survived the Holocaust, the end of World War II brought new challenges. Many could not or would not return to their former homelands, and options for legal immigration were limited. In spite of these difficulties, these Jewish survivors sought to rebuild their shattered lives by creating flourishing communities in displaced persons camps in Germany, Austria, and Italy. In an unparalleled six-year period between 1945 and 1951, European Jewish life was reborn in camps such as Feldafing.
Background
Feldafing was the first all-Jewish displaced persons (DP) camp. It hosted a large and important community of survivors.
Originally a summer camp for Hitler Youth, Feldafing was located 20 miles southwest of Munich in the American zone of occupation. The first director of the camp was Lieutenant Irving J. Smith.
In 1946, about 4,000 Jews lived at Feldafing and by Passover 1951, 1,585 Jewish DPs remained in the camp. The camp went over to German administration on December 1, 1951, and closed in March l953.
The Population of Feldafing
The camp was comprised of stone and wooden barracks as well as individual homes that were requisitioned from Germans. The US Army originally opened the camp on May 1, 1945, primarily to house 3,000 Hungarian Jews. However, until July 1945, the camp housed many non-Jewish concentration camp survivors.
In July 1945, American chaplain Abraham Klausner played a significant role in convincing the commandants of Dachau and Feldafing to empty Feldafing of its non-Jewish Polish and Hungarian DPs and replace them with the remaining Jewish survivors from Dachau. The camp thereafter became a model for implementing the Harrison Report's suggested policy toward Jewish survivors.
In autumn 1945, the first all-Jewish hospital in the German DP camps was founded at Feldafing with 1,000 beds provided by the JDC.
Educational and religious life flourished in Feldafing. In addition to Feldafing's secular elementary and high school systems, the camp's religious community founded several schools, including a Talmud Torah (religious elementary school), a yeshiva (religious academy), and several seminaries including Bet Medrash Lita and Bet Medrash Ungarn.
Feldafing also had a rabbinical council that supported its religious office, an agency that held considerable influence within the camp. The camp's extensive library also had a noteworthy religious book collection.
Secular instruction was available for adults at an evening school, an Organization for Rehabilitation through Training (ORT) vocational training school, and a nursing school.
Children and Youth in Feldafing
Housed in a separate kinderblock of 450 children and adolescents, many of Feldafing's youngsters organized kibbutzim (Zionist communes). These included secular kibbutzim such as "Shayeret Zvi" and "Zerubavel," and religious kibbutzim such as "Chafetz Chaim" and "Ohel Sarah."
Newspapers and Cultural Activities in Feldafing
Several newspapers were published in Feldafing, including Dos Fraje Wort (The Free Word) and Dos Jiddishe Wort (The Jewish Word) as well as supplementary magazines like the Feldafinger Magazin.
Theater troupes such as the "Partisans" and "Habima" entertained the camp population. Camp residents also organized an orchestra.
Visits from Dwight D. Eisenhower and David Ben-Gurion
General Dwight D. Eisenhower personally inspected the living conditions of Feldafing in September 1945. The hospital, as well as additional housing, was a direct result of the Harrison report and Eisenhower's visit to the camp. Footage of Eisenhower's visit shows crowds of survivors surrounding Eisenhower, much as they did when Jewish leaders like David Ben-Gurion visited the camp. Ben-Gurion's initial visit to the camp in October 1945 was an important boost of confidence to the population of Feldafing and its central committee.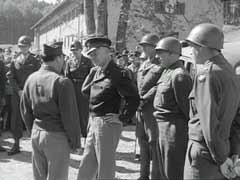 The Feldafing Camp Committee
As the first all-Jewish DP camp in the US zone, Feldafing also marked the site of the first elected Jewish camp committee. Feldafing's camp committee was subdivided into several offices, including staffs for housing, provisions, economics, sanitation, culture, and legal matters.
The strong camp court launched a project to codify laws for the camp in 1946 and led a movement to standardize law for all the Sh'erit ha-Pletah in the US zone of Germany. The court also issued decisions concerning several former Kapos living within the camp.
The Feldafing court helped investigate the perpetrators of the Kielce pogrom of 1946 and publicized information about the Nazi murderers of Lithuanian Jews who were thought to have been in the vicinity.
This article is based on the exhibition Life Reborn: Jewish Displaced Persons 1945-1951, a project of the United States Holocaust Memorial Council and the Second Generation Advisory Group.
Series:

Displaced Persons Camps
Critical Thinking Questions
What challenges did survivors face in the DP camps?
What challenges did the Allies face in establishing and supervising DP camps?
What responsibilities do (or should) other nations have regarding refugees from war and genocide?
Further Reading
Heider, Angelika. Das Lager fur Judische Displaced Persons Feldafing in der Amerikanischen Besatzungszone, Berlin: private printing, l994.
Schochet, Simon. Feldafing, Vancouver: November House, l983.