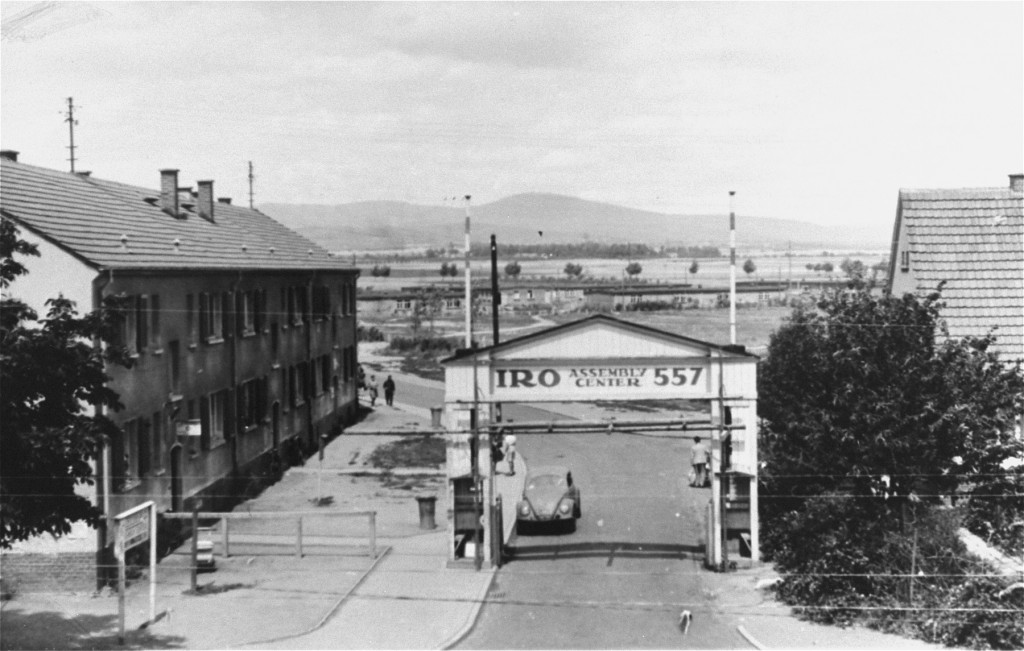 Zeilsheim Displaced Persons Camp
For the Jews who survived the Holocaust, the end of World War II brought new challenges. Many could not or would not return to their former homelands, and options for legal immigration were limited. In spite of these difficulties, these Jewish survivors sought to rebuild their shattered lives by creating flourishing communities in displaced persons camps in Germany, Austria, and Italy. In an unparalleled six-year period between 1945 and 1951, European Jewish life was reborn in camps such as Zeilsheim.  
Background
Zeilsheim was a displaced persons (DP) camp 12 miles west of Frankfurt in the American-occupied zone, originally built in what had been a camp for Russian forced laborers. Zeilsheim next requisitioned German homes (small townhouses from two- to three-stories in height) to accommodate inhabitants of the DP camp. Though Zeilsheim was thus viewed as one of the preferable DP camps, living conditions were nonetheless crowded.  An American Army chaplain noted:
Originally set up for 1,800 DPs, at the time of my visit [October 1945], it was bursting at the seams with 5,500 men, women and children. Living conditions were beyond description. In a two bedroom flat, three families, 7 persons were living. One couple for each bedroom and one couple with a 16-year-old boy in the living room. Whenever a friend of this boy would come to visit him, they set up a cot for him in the kitchen. This was a typical flat for Zeilsheim.
The streets and building complexes of Zeilsheim were named after towns and kibbutzim in Palestine. In December, 1945, another camp, Lampertheim, was opened in the area to house the growing number of DPs.
Life in the Camp
Zeilsheim maintained a Jewish theatrical group, a synagogue, a jazz orchestra, a sports club named "Chasmonai" (also named for a location in Israel), and a number of schools, including an ORT (Association for the Promotion of Skilled Trades) vocational training institute and a nurse training school. The camp had a library with approximately 500 books, and circulated two Yiddish newspapers: Unterwegs (In Transit) and Undzer Mut (Our Courage). A special group was formed to interview child survivors of the Holocaust. The Jewish population in the camp reached approximately 3,570 in October of 1946.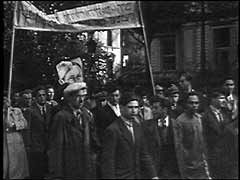 Zeilsheim was the site of many protests against British policy on Jewish immigration to Palestine. Judah Nadich, General Eisenhower's first advisor on Jewish affairs in the European Theatre of Operations, frequently visited the camp in an effort to see that the basic requirements of DPs were being met. David Ben Gurion, then the chairman of the Executive of the Jewish Agency (and future Prime Minister of Israel), also visited the DP camp. His personal inspection of Zeilsheim was a pivotal event in the lives of Jewish DPs. In February, 1946, Eleanor Roosevelt came to inspect Zeilsheim. She subsequently wrote her impressions in her newspaper column, My Day:
My visit to Frankfort was packed so full of emotions, it is hard to give you an adequate idea of what I saw and how I felt. Yesterday morning, we visited the Zeilsheim Jewish displaced persons camp. They made me a speech at a monument they have erected to the six million dead Jewish people. I answered from an aching heart. When will our consciences grow so tender that we will act to prevent human misery, rather than avenge it?
Closure
The camp closed on November 15, 1948, after a piece de resistance during which the U.S. Army wanted to return the houses to workers from the IG Farben plant in nearby Hechst. Rabbi Bernstein believed that it would be cruel to inconvenience the DPs in order to accommodate Germans, especially since nearly all the camp residents were concentration camp survivors. He warned that the evacuation would only be accomplished through force. Thus, the army postponed the idea until July 1948, when it renewed its plan after the establishment of Israel. Conceding to the pleas of the camp committee, the army postponed the transfer date until November 15, 1948, but survivors still protested the move.
Series:

Displaced Persons Camps
Critical Thinking Questions
What challenges did survivors face in the DP camps?
What challenges did the Allies face in establishing and supervising DP camps?
What responsibilities do (or should) other nations have regarding refugees from war and genocide?