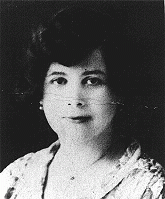 Eszter Mendel Braun
Born: 1903
Hidegkut, Hungary
Eszter was one of 11 children born to religious Jewish parents in the small town of Hidegkut in eastern Hungary. During World War I her family became refugees and only three of her brothers and sisters survived the war. After the war, she married Jeno Braun, a refugee from the town of Sighet. They settled in the town of Cristuru-Secuiesc in Romania and had six children.
1933-39: Since Eszter could speak many languages, including Hungarian, Yiddish, Romanian, Italian, French, and Hebrew, she felt at home in Cristuru-Secuiesc, which was located in the multi-ethnic Romanian region of Transylvania. During the 1930s Cristuru-Secuiesc was renamed I.G. Duca in honor of a slain Romanian leader. While her husband, Jeno, ran a jewelry and watch shop, Eszter stayed at home raising their young children.
1940-44: The Hungarians marched into Cristuru-Secuiesc in September 1940 and annexed it to Hungary. New laws were instituted limiting the rights of Jews. Eszter's children were expelled from public school; her husband was forced to keep his shop open on the Jewish sabbath and, finally, to surrender control to a non-Jewish employee. In the spring of 1944 the Braun family was forced to move into a ghetto established by Hungarian officials and the couple's two eldest sons were drafted into the Hungarian army as conscript labor.
In May 1944 Eszter and the rest of the Braun family were deported to Auschwitz, where Eszter and her youngest daughter, Aranka, were gassed shortly after arriving.