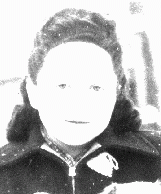 Felicia Karo
Born: April 12, 1926
Lodz, Poland
Felicia grew up in a Jewish family living in a predominantly Catholic neighborhood in the large, industrial city of Lodz. Her father's side of the family had lived in Poland for 400 years. He was the principal of a Jewish secondary school for boys. Known affectionately by family and friends as Lusia, Felicia attended a bilingual Jewish school in which both Hebraic and Polish subjects were taught.
1933-39: When Felicia was 12 she heard a lot of bad things about the Nazis. A Polish-born German Jewish refugee stayed next door. The Nazis made her leave, she said, and they killed her husband. Hearing her talk upset Felicia. Felicia lent her some of her books and tutored the woman's two little boys in Polish to help out. At school they said that Poland could beat Germany and that there was no need to worry. But in 1939 Germany invaded and occupied Poland.
1940-44: In January 1940 Felicia and her family were forced to move into the ghetto. As Soviet forces approached in August 1944, the SS ordered us survivors to assemble near the rail tracks for "resettlement." As an incentive, they offered a loaf of bread to those who went willingly. Felicia's family's dread of "resettlement" outweighed their hunger--some of them hid in Felicia's father's second-floor office. They hoped that no one would notice them, but a child's cry gave them away. The police came upstairs and ordered them to line up.
Felicia survived deportation to Auschwitz and other camps in Germany. She was liberated by British troops in Bergen-Belsen on April 15, 1945, and immigrated to the United States in 1948.