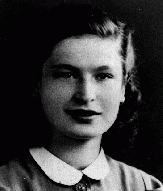 Frida Adler
Born: September 14, 1926
Selo-Solotvina, Czechoslovakia
Frida was the eldest of three daughters born to Jewish parents in a village in the easternmost province of Czechoslovakia. When Frida was 2, her parents moved to Liege, Belgium, a largely Catholic industrial city with many immigrants from eastern Europe. Frida attended Belgian public schools and grew up speaking French.
1933-39: In Liege Frida's family lived in an apartment above a cafe and across the street from a Catholic church. Frida had many Catholic girlfriends at school. At home she spoke Yiddish to her parents, but when her parents didn't want her to understand their conversation, they spoke Hungarian to each other. Her religious mother made sure that Frida also studied Hebrew.
1940-44: Frida was 13 when the Germans occupied Liege. Two years later, because they were Jewish, her family was ordered to register and Frida and her sisters were forced out of school. Some Catholic friends helped her family obtain false papers and rented them a house in a nearby village. Then, as Fernande Albert, Frida was sent back to Liege to work as a maid. Every other weekend she bicycled back to the village to visit her family. On the first weekend of March 1944 she got a message, "Don't come." The Gestapo had arrested her family.
Frida was in Brussels, Belgium, when it was liberated by British and Canadian troops in early September 1944. She immigrated to the United States in May 1946.