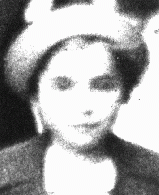 Nelly Adler
Born: February 28, 1930
Liege, Belgium
Nelly was the youngest of three daughters born to Jewish parents in Liege, a French-speaking industrial city in eastern Belgium. Her Yiddish-speaking parents had moved there from Czechoslovakia a year before Nelly was born. The Adlers were one of only a few Jewish families in the largely Catholic city. Nelly grew up speaking French with her friends at school.
1933-39: The Adler's apartment was above a cafe and across the street from a Catholic church. Her parents ran a successful tailoring business from their home. Nelly attended public school and had many Catholic girlfriends. Her religious mother made sure that she and her sisters also studied Hebrew.
1940-44: Nelly was 10 when the Germans occupied her city. Two years later, because they were Jews, Nelly and her sisters were forced out of school. Some Catholic friends helped the Adlers obtain false papers and rented them a house in a nearby village. One Sunday, two days after her ill father had checked into the hospital, the Gestapo came to Nelly's house at 5 a.m. They had heard there was a family of Jews there. They demanded to know where Nelly's father was--she told them the truth, but the Gestapo slapped her for lying.
Everyone in the house was arrested and deported. Nelly was gassed in Auschwitz on May 21, 1944. She was 14 years old.