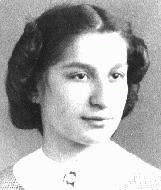 Bertha Adler
Born: June 20, 1928
Selo-Solotvina, Czechoslovakia
Bertha was the second of three daughters born to Yiddish-speaking Jewish parents in a village in Czechoslovakia's easternmost province. Soon after Bertha was born, her parents moved the family to Liege, an industrial, largely Catholic city in Belgium that had many immigrants from eastern Europe.
1933-39: Bertha's parents sent her to a local elementary school, where most of her friends were Catholic. At school, Bertha spoke French. At home, she spoke Yiddish. Sometimes her parents spoke Hungarian to each other, a language they had learned while growing up. Bertha's mother, who was religious, made sure that Bertha also studied Hebrew.
1940-44: Bertha was 11 when the Germans occupied Liege. Two years later, the Adlers, along with all the Jews, were ordered to register and Bertha and her sisters were forced out of school. Some Catholic friends helped the Adlers obtain false papers and rented them a house in a nearby village. There, Bertha's father fell ill one Friday and went to the hospital. Bertha promised to visit him on Sunday to bring him shaving cream. That Sunday, the family was awakened at 5 a.m. by the Gestapo. They had been discovered.
Fifteen-year-old Bertha was deported to Auschwitz on May 19, 1944. She was gassed there two days later.