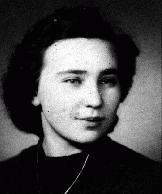 Hana Mueller
Born: May 30, 1922
Prague, Czechoslovakia
Hana was born to a Jewish family in Prague, the capital of Czechoslovakia. Her father, a metalsmith, made pipes, spouts and gutters for construction companies. Because her mother was frail, Hana was raised by her father and grandmother. She attended a Jewish school through grade five, and later went to business school.
1933-39: In 1933 I read about the harrowing treatment of Jews during the Spanish Inquisition and told my grandmother, "We're fortunate that we live in the 20th century in Czechoslovakia and such a thing can't happen to us." Six years later on March 15, 1939, the Germans occupied Prague. It was a cold, snowy day. About a mile from my home the Germans entered the city on tanks and trucks, with their guns pointed toward the rooftops.
1940-44: I was in my apartment reading "The Grapes of Wrath" when the Germans came to get me. I was deported to the Theresienstadt ghetto. The Nazis used Theresienstadt as a "show camp" to convince people that Jews were really being treated well. When the Red Cross came in July 1944, the Nazis put up dummy stores, a cafe, kindergarten and flower gardens to give the impression that we were leading "normal" lives. We painted the house fronts on the inspection routes and the Nazis gave us extra food--one extra dumpling each.
Hana was deported to Auschwitz in 1944. After some months as a slave laborer in Germany and Czechoslovakia, she was freed when SS guards deserted her work gang on May 5, 1945.