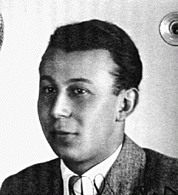 Hans (John) Sachs
Born: May 8, 1920
Decin, Czechoslovakia
Hans was born to a Jewish family in the Sudetenland, a region of Czechoslovakia that had a large German population. In 1922 the Sachs family moved to Vienna, Austria, where they purchased a dry goods store. Hans attended public school and had many non-Jewish friends.
1933–39: By 1936 many of Hans' friends and their families supported the Nazi movement. In March 1938, German troops entered Austria and incorporated it into the Reich. Hans watched as large crowds in Vienna cheered Hitler when he visited the city. Local Nazis terrorized the Jews, forcing them to clean the streets and paint the word Jude (Jew) on storefront windows. One day, Hans' best friend showed up in a Nazi uniform and ended their close relationship. That summer, the Sachs' shop, like many other Jewish businesses, was transferred to an "Aryan" trustee. In September 1938 the family returned to Czechoslovakia, settling in Prague. In March 1939, German troops entered the city.
1940–45: Hans realized that the family had to emigrate. Before they left Vienna he had begun writing to people in the United States with the last name Sachs in a desperate effort to find someone who could help. In Prague, Hans received a letter from a dentist in New York who offered to sponsor him. His parents, then in their fifties, refused to leave. Hans left for the United States in April 1940. Arriving in New York, he found work as a plumber—an occupation he had learned in Prague. In 1941 he was drafted into the U.S. Army. Hans fought in the Allied military campaigns in the Aleutian Islands and Italy.
In August 1945, he returned to America and soon afterward married a fellow refugee. He learned that his father had been arrested, deported to the Small Fortress in Theresienstadt, then Auschwitz, and later Buchenwald, where he died. His mother perished at the Auschwitz-Birkenau killing center.