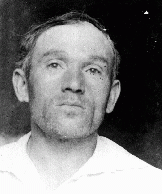 Iosif Rivkin
Born: 1891
Minsk, Belorussia
Iosif was born to a Jewish family in the Belorussian capital of Minsk. He fought with the Tsarist troops in World War I and was taken prisoner by the Germans. When he returned to Minsk after the war, he began working in a state-owned factory building furniture, an occupation in which a number of his relatives also made a living.
1933-39: By the early 1930s, Iosif was married and had three daughters, Hacia, Dora and Berta. The family lived on Novomesnitskaya Street in central Minsk, near the Svisloch River. Throughout the 1930s, the girls attended Soviet state schools and were involved with the Soviet youth organization the Young Pioneers. By the late 1930s Minsk was filled with Polish refugees fleeing the German invasion.
1940-43: On June 27, 1941, the invading Germans reached Minsk. The Rivkins' home was bombed the next day, and they were forced into the street. They slept by the river with numerous other refugees, until German guards threatened to shoot them all. German posters in Minsk declared that the Nazis had come to liberate the Soviet Union from Communism and the Jews. In August the Germans set up a ghetto, where Iosif was put to work as a carpenter. When the ghetto was liquidated in October 1943, Iosif and his family were deported.
Iosif's daughter, Berta, escaped from the ghetto before it was liquidated. Iosif and the rest of his family were never heard from again.