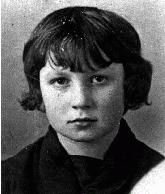 Berta Rivkina
Born: 1929
Minsk, Belorussia
Berta was the youngest of three girls born to a Jewish family in Minsk, the capital of Belorussia. Before World War II, more than a third of the city was Jewish. Berta's father worked in a state-owned factory building furniture, an occupation in which several of his relatives also made a living.
1933-39: We lived on Novomesnitskaya Street in central Minsk, only a few blocks from the Svisloch River. My older sister, Dora, loved to swim there in the summer. By the time I was in the fourth grade, there were many Polish refugees in our city. Germany and the USSR had divided Poland, and Poles were fleeing eastward. Many stayed in Minsk because it was still close to "home," being only about 20 miles from the Polish-Soviet border.
1940-44: I was 12 when the Germans reached Minsk in 1941 and set up a ghetto. A year later, trying to escape a roundup, my mother and I hid in a warehouse. When we were discovered by a German guard, I was so scared that I began talking gibberish and started to run--the guard followed me. As I fled I slammed into another woman who appeared out of nowhere. Just then the guard fired his gun. We both fell and I was sure I'd been hit. But I stood up and found that I wasn't wounded. The other woman lay motionless.
Berta was taken to be executed but managed to get away. Later, she escaped from the ghetto and joined the Soviet partisans. She was liberated by the Red Army in July 1944.