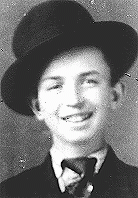 Jeno Brieger
Born: November 17, 1925
Nagyhalasz, Hungary
Jeno was born into a large, religious Jewish family in the village of Nagyhalasz in northeastern Hungary. The Briegers spoke Yiddish and Hungarian. After Jeno's mother died, his father remarried and the family moved to the town of Nyiregyhaza where his father owned and operated a hardware store. Nyiregyhaza had a Jewish population of 5,000.
1933-39: Jeno was the oldest son in a household of seven children. Nyiregyhaza was a rural town in which people still used horses and buggies. Jeno attended a religious Jewish grade school. When he was 13, his father sent him to study at a rabbinical school in the town of Munkacevo [Munkacs] in Czechoslovakia. Jeno lived in Munkacevo for four years with a family that his father helped support.
1940-44: When Jeno was 17, he returned to Nyiregyhaza where he trained to be a tailor. After German forces occupied Hungary on March 19, 1944, Jeno's father lost his hardware store. Some 17,000 Jews from Nyiregyhaza and nearby villages were moved into a ghetto in Nyiregyhaza set up by Hungarian officials. In May and June, everyone in the ghetto was deported to Auschwitz. Before he left Nyiregyhaza, Jeno buried his sewing kit under the family's chicken coop in the hope of recovering it someday.
In April 1945 Jeno was liberated by British troops in the Bergen-Belsen concentration camp. In 1977 he emigrated from Nyiregyhaza to the United States.