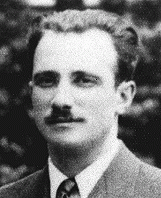 Leo Hanin
Born: November 20, 1913
Vilna, Poland
Leo's Jewish family lived in Vilna, which in 1913 was part of the Russian Empire. In 1916, fearing revolution, his family left for Harbin in northern China, a city with a well-organized Jewish community. There Leo joined a Zionist group and studied Jewish history, and for two years attended a Jewish primary school and learned Hebrew. He then studied at a Russian secondary school in Harbin.
1933-39: When Japan occupied Manchuria in 1931 and conditions in Harbin deteriorated, Leo's parents sent him to Shanghai. There he attended a British school and learned English, and he also served in the Jewish Shanghai Volunteer Corps, which protected Shanghai's foreign citizens. Leo got a job at a textile import firm that sent him, in 1937, to Kobe, Japan. The small Jewish community there elected him its honorary secretary.
1940-44: In 1940 and 1941 many Jewish refugees from Poland and Lithuania were saved from the Holocaust by receiving transit visas via Japan, which were issued to them by the Japanese vice-consul in Kovno. These refugees traveled by train across the Soviet Union to Vladivostok, where they were eventually transported by ship to Kobe, Japan. There Leo's small Jewish community looked after them by finding them homes, donating medical supplies and clothing, and arranging their visas so they could stay on in Japan.
In 1942 Leo returned to Shanghai and spent the rest of the war working there. He immigrated to Israel in 1948 and later moved to the United States.