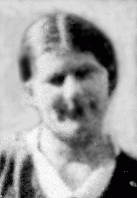 Margit Nemeth Fekete
Born: 1900
Szentes, Hungary
Margit was born to a Jewish family in the city of Szentes. In 1919 she married and had a son, Gyorgy. When Gyorgy was still a baby, Margit divorced, but she remarried several years later. Her new husband, Vilmos Fekete, worked as a manager in a large electric company in Ujpest, a suburb of Budapest. Margit settled there and her son stayed in Szentes with his grandparents.
1933-39: Margit and her son saw each other as often as possible. Margit would travel by bus to Szentes to spend the Jewish holidays together with her son and parents. Gyorgy, in return, would visit his mother in Ujpest during his summer vacations.
1940-44: In 1940 Hungary became an ally of Germany. Gyorgy was conscripted by the Hungarian army into a Jewish forced-labor unit and sent to the Soviet front. Germany occupied Hungary on March 19, 1944. That May, Ujpest's Jews were moved into houses marked with a Star of David. Margit and her husband were deported to brickyards in the city of Budakalasz, which had been converted to a transit camp for Jews from Budapest's suburbs. All of the Jews in Budakalasz were deported to Auschwitz in eight trains between July 6 and 8.
Margit and her husband were deported to Auschwitz and never heard from again. Their son, Gyorgy, survived and moved to Budapest after the war.