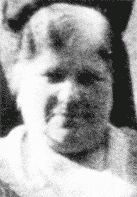 Juliana Nemeth
Born: April 24, 1876
Hodmezovasarhely, Hungary
Juliana, who was born to a Jewish merchant family, lived in Szentes, a town in southeasten Hungary which was about 30 miles from the city of Szeged. She and her husband, Jeno, had three children—two married daughters, Barbara and Margit, and a son, Desider, who was a dentist in Szentes. Juliana and her husband owned a hardware and grocery store located on a busy inter-city roadway.
1933-39: My husband and I work hard in our store. The Depression of the 1930s was devastating, but things are starting to get a little better. Barbara, who had moved to the nearby town of Torokszentmiklos when she married, has now divorced and moved back with her son to Szentes. She works with us in the store.
1940-44: It's been four months since German troops occupied Hungary in March 1944. Members of the Hungarian fascist party, Arrow Cross, confiscated our store and home. Now Jeno, our grown children and their families, some of our in-laws and I are among thousands of Jews from towns around Szeged who have been deported to a makeshift ghetto in Szeged's sports field and brickyard. Most of the people here are children and the elderly, or women whose husbands had been conscripted into forced-labor brigades for the Hungarian army.
Juliana and her family were deported, via the Strasshof labor camp, to a labor camp in the east Austrian village of Goestling an der Ybbs. They were shot by retreating SS soldiers, just days before US forces reached the area.