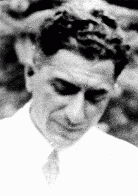 Desider (Dezso) Nemeth
Born: June 8, 1899
Szentes, Hungary
Desider and his sisters, Margit and Barbara, were born to a middle-class Jewish family. They lived in Szentes, a town in southeastern Hungary, located 30 miles from the city of Szeged. Desider had a dental practice in Szentes. He married Barbara Kertesz, who came from the neighboring town of Hodmezovasarhely.
1933-39: We now have a baby daughter, Maria. I have a busy practice and my patients come from all walks of life. I'm glad that I opened my practice in the town where I was born because my friends and family are here, and I enjoy working in my own community. My wife has found us a house that doubles as my office.
1940-44: It's been five months since German troops occupied Hungary in March 1944. My family and I were among thousands of Jews deported to a makeshift ghetto in Szeged's Rokus sports field and brickyards. Most of the people there were children, the elderly and women. Then, a month ago, we were sent by train, via the Strasshof labor camp, to a labor camp in the farming village of Goestling an der Ybbs, located in eastern Austria.
In April 1945 Desider and his family were shot to death in Goestling an der Ybbs by retreating SS soldiers, just days before U.S. forces reached the area. Desider was 46.