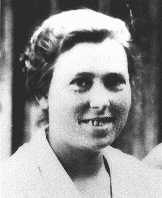 Ruth Warter
Born: June 13, 1905
Berlin, Germany
Ruth lived in Uzliekniai, a village in the Memelland, a region in southwestern Lithuania ruled by Germany until 1919. An avid reader, Ruth was distressed by news of postwar political turmoil. In 1923, when Uzliekniai became part of Lithuania, she joined the Jehovah's Witnesses. She married Eduard Warter, another Jehovah's Witness, in 1928. They had four children over the next five years.
1933-39: I was busy raising my children and making sure they did their Bible studies. On March 22, 1939, the German army invaded and our land was annexed to Germany. The next day the Gestapo confiscated our religious literature and arrested some of our spiritual brothers. The village mayor and schoolteacher were Nazis. Our preaching was banned and our Bibles were publicly burned. When men started getting drafted, I worried about my husband.
1940-44: Eduard was arrested because he refused to serve in the army, which would have violated God's fifth commandment, "Thou shalt not kill." He was condemned to death, but the real intention of the authorities was to win him away from Jehovah. An officer asked me to persuade Eduard to join the army, but I refused. The government even offered to help us resettle in Germany, but this offer reminded me of the devil's temptation of Christ. With God's help, Eduard and I remained strong. We refused to cooperate with the Nazis.
Ruth and her husband were reunited in 1946. The Soviets, suspicious of Jehovah's Witnesses, deported them to Siberia in 1950. In 1969 they returned to Germany.