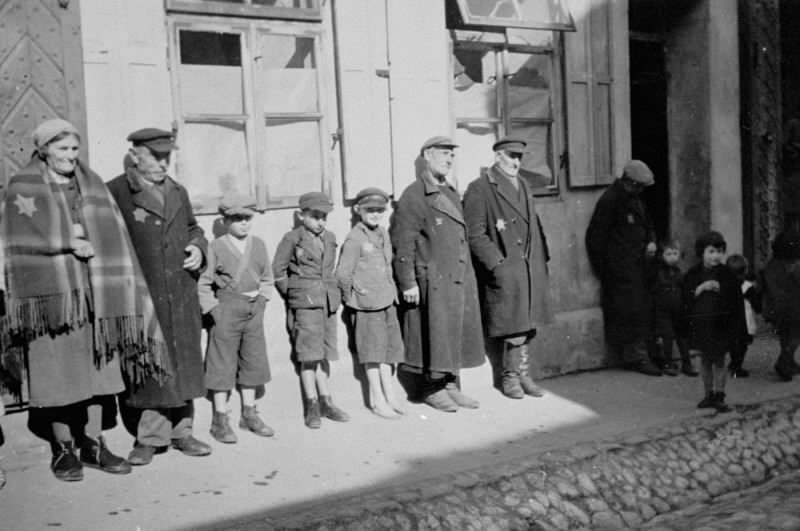 In 1939, the German government conducted a census of all persons living in Germany. Census takers recorded each person's age, sex, residence, profession, religion, and marital status, and for the first time, they also listed the person's race as traced through his or her grandparents. This information was later punched into coded cards by thousands of clerks.
The cards were sorted and counted by the Hollerith machine, an early version of the modern computer. The Hollerith was invented in 1884 by a German-American engineer, Herman Hollerith. The machine was used in the United States and by most European governments for processing census data in the late 1800s and early 1900s. The Holleriths used by the Germans were developed by a German branch of the American company later known as International Business Machines (IBM).
The information from the 1939 census helped Nazi official Adolf Eichmann to create the Jewish Registry, containing detailed information on all Jews living in Germany. The Registry also recorded the names of Jews in Austria and the Sudetenland of western Czechoslovakia, which were occupied by German troops in 1938 and 1939 and made part of the Reich (German empire). Nazi racial ideology and policies did not stop at Germany's borders.
Technology and information that were under other circumstances helpful tools became, under the Nazi regime, a means of locating victims.
Key Dates
April 7, 1933
Jews are identified and removed from government posts
Two months after Adolf Hitler's appointment as chancellor, the purge of the administration begins with legislation passed on April, 1933. The legislation includes an "Aryan Paragraph" providing for the removal of Jews from various spheres of society. All government employees must show documentation of their "Aryan" descent. For the first time, legislation defines who is considered Jewish. Those employees with Jewish parents or grandparents are removed from their posts. Jews who served at the front in World War I or whose immediate family members had fallen in the conflict are exempted until 1935, when they too are removed. The "Aryan Paragraph," identifying and removing Jews, is soon applied to all spheres of public life in Germany.
August 17, 1938
Jews required to assume "Jewish" name
The German government requires all Jews in Germany whose first name is not immediately recognizable as Jewish to add a "Jewish" name following their first name. Men are required to add "Israel" and women "Sara." In October, the German government confiscates all passports held by Jews. New passports issued to Jews have a "J" stamped on them, indicating that the holder is Jewish.
September 19, 1941
Badge identifying Jews introduced in Germany
Jews over the age of six in Germany are required to wear a yellow, six-pointed star with the word "Jude" (German for "Jew") across the front in black, sewn to their outer clothing at all times. Jews are now identifiable on sight in Germany. Systematic deportations of Jews from Germany begin in October. In March 1942, Jews are also required to display the star symbol on their residences.
Series:

Jews in Prewar Germany