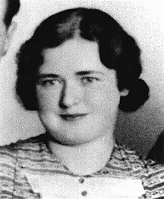 Alice Edelstein-Friedmann
Born: October 20, 1919
Hostoun, Czechoslovakia
Alice, born Alice Edelstein, was the youngest of two children raised in a Jewish family in the Bohemian village of Hostoun, near Prague. Shortly after Alice was born, her father moved the family to Vienna. There, Alice's father owned a wholesale shoe business. As a child, Alice attended public school and also received a religious education.
1933-39: After graduating from business school, I had a hard time finding a job because of the economic depression in Austria. In 1936 my father let me work in his office, but I was glad to find a job in another office in 1938. I was there only one month when the Germans annexed Austria in March. The Nazis began attacking Jews throughout the city. It broke my heart to leave my parents, but I left for Prague to escape the Nazi terror.
1940-44: In May 1942 I was deported to the Theresienstadt ghetto. On arriving I saw my uncle. He told me that my transport was bound for another destination, and the only way I could stay would be if he declared that I was his bride. He did. I stayed and my transport left a few days later, though no one knew to where. A year later I was deported to Auschwitz, and from there sent in 1944 with 500 women to work in Hamburg cleaning rubble from the streets and factories.
Alice was eventually deported to the Bergen-Belsen camp where she was liberated by British troops on April 15, 1945. Alice was the only member of her family to survive the war.