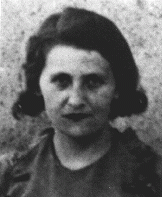 Chaya Szabasson Rubinstein
Born: 1901
Kozienice, Poland
In 1930 Chaya married Mordecai Rubinstein, a businessman, and moved with him from her hometown of Kozienice to the nearby city of Radom. Chaya had been raised in a religious, Yiddish-speaking Jewish family, and her father owned a lumber mill near the Kozienice birch forest. In Radom, Chaya's husband operated a small bus line.
1933-39: Chaya gave birth to a daughter, Gila, in 1933. In the mid 1930s the Rubinsteins moved back to Kozienice. There, they were trapped when German troops invaded [Poland] in September 1939. Within weeks, the Jewish section of town was declared a ghetto and Jews could not leave the area without special permission. Nazis beat, robbed, and killed many Jews, and, slowly, people began to die of hunger.
1940-42: After the beginning of the war Mordecai contracted tuberculosis and was smuggled out of the ghetto to a Jewish rest home to recuperate. Chaya managed to smuggle leather out of the ghetto and sell it on the black market, and 8-year-old Gila sold black market goods from their home to raise money, but it was not enough and Mordecai, still ailing, was smuggled back home in 1941. In 1942 Chaya was deported along with her husband, daughter and parents to the Treblinka killing center.
Forty-one-year-old Chaya and her family perished at Treblinka.