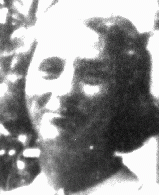 Dora Unger
Born: January 7, 1925
Essen, Germany
Dora, her parents, brother, aunt, uncle, and two cousins lived together in her grandfather's home in Essen, Germany. The Ungers were an observant Jewish family, and when Dora was 8, she began to regularly attend meetings of Brit HaNoar, a religious youth organization.
1933-39: In October 1938 a teacher, with tears in her eyes, came to Dora at the municipal pool, saying "Jews cannot swim here anymore." Just weeks later, on November 9, Jews were arrested and their property destroyed. A neighbor tried to protect Dora's family, but that night as her family huddled together, Nazis spotted their house. Suddenly, an axe flew through the window, landing by Dora's head. A few days later, they fled for the Netherlands.
1940-45: In Amsterdam, as refugees, her parents were not permitted to work and so they could not provide for Dora and her brother. Dora was sent by a Jewish aid organization to the Buergerweeshuis, an orphanage which had 80 Jewish refugee children. Just after the Germans invaded the Netherlands in May 1940, "Mama Wysmueller," a Dutch woman who worked to rescue thousands of children by arranging their passage to England, came and told all of them to get dressed. They were taken by bus to a pier and put on the Bodengraven, a boat.
Dora spent the remainder of the war in England. Her parents and brother perished at the camps of Sobibor and Auschwitz. Dora immigrated to Israel in 1946.