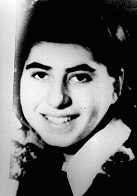 Edith Riemer
Born: April 22, 1930
Berlin, Germany
Hela Pinsker and Elimelech Riemer were married in 1928. Two years later the Jewish couple's only child, Edith, was born. The Riemers lived in a comfortable apartment in Berlin, in a building that also housed offices of the Communist Party of Germany.
1933-39: Hitler banned the Communists, so their offices in our building were shut down. When these offices were later broken into, the Gestapo blamed it on "the Jews." Though our family wasn't involved, they said that if the culprit was not found within 72 hours, my family would be punished. My father quickly sent my mother and me to Poland, where my parents were born. We left Berlin with only a little cash from the bank, and Father joined us later.
1940-45: In 1942 my mother was killed in Poland by the Germans. I was smuggled to the Tarnow ghetto to live with an aunt. From Tarnow I was deported to Auschwitz, and was lined up to be gassed. The entrance to the gas chambers had double doors, and as we were being pushed in, I hid, curled up in a ball between the two doors. The German in charge of closing the outside door found and beat me. But since the chamber's interior door was already sealed, it was too late to put me in the gas chamber.
Edith was assigned to forced labor. In 1945 she was liberated at the Bergen-Belsen camp. The next year she immigrated to Palestine, where she was later reunited with her father.