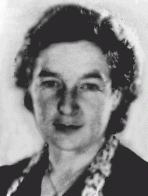 Hilde Verdoner-Sluizer
Born: November 28, 1909
Amsterdam, Netherlands
Hilde was raised in a middle-class Jewish family in Amsterdam. Like many of the Netherlands's Jews, Hilde's family was well-integrated in Dutch society. Hilde excelled in high school, especially in languages. After graduation, she studied homemaking for two years, and then took a job as a secretary in Rome. Hilde returned to Amsterdam where, at 24, she married Gerrit Verdoner in December 1933.
1933-39: After their wedding, Hilde and Gerrit moved to Hilversum, a residential town in the heart of the Netherlands. They lived in a spacious house in a tree-lined neighborhood where their three children were born: Yoka in 1934, Francisca in 1937, and Otto in 1939. Their life was comfortable in the Netherlands, but Hilde worried about the deteriorating situation of Jews in Germany. Her anxiety increased when Hitler invaded Poland on September 1, 1939.
1940-44: In May 1940 Germany overran the Netherlands in five days. Anti-Jewish decrees forced Gerrit out of business. When the Nazis confiscated their home, the Verdoners moved in with Gerrit's parents in Amsterdam. The underground helped place their children in hiding. Mass deportations began in the summer of 1942. Hilde and Gerrit were sent to the Westerbork transit camp. Gerrit worked for the camp's Nazi-appointed Jewish administration, which saved them from immediate deportation.
On February 8, 1944, Hilde was deported for "resettlement in the East." The transport was sent to Auschwitz, where Hilde was gassed three days later. She was 34.