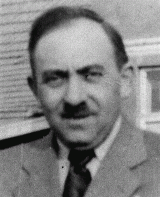 Lajos Nagy
Born: April 2, 1898
Zagyvapalfalva, Hungary
The Nagys were one of several Jewish families in Zagyvapalfalva, a town 45 miles from Budapest. They owned a general store that served the many coal miners in the mountain valley town. As a young man, Lajos served with the Hungarian army in World War I. He then studied in Budapest to be a diplomat, but a 1920 law restricting the number of Jews in certain professions kept him from pursuing his career.
1933-39: My father has passed away and I have taken over the general store in Zagypalfalva with my bride, Kato. This last antisemitic prime minister pushed through a law prohibiting Jews from selling basic items like sugar, tobacco and liquor, and our business slacked off drastically. Sometimes at night, hooligans bang on the windows of our home, chanting, "Jews, go away!" One is the son of our good friend, the town notary.
1940-44: Two years ago the situation in Zagyvapalfalva got so bad that we had to rent out our store and house and move to Kato's family home outside Budapest. While we were there Kato gave birth to Sandor Michael. Our Sanyika was just 3 months old when the Germans invaded Hungary. It was only a few weeks later that I received orders--along with hundreds of other men aged 18 to 48--to report for labor service. I've been put to work outside Budapest laying new roads and clearing the rubble caused by Allied air raids.
That October, Lajos was killed by an Allied bomb. His wife and baby were deported to Auschwitz. Sandor was gassed on arrival. Kato was chosen for forced labor and survived the war.