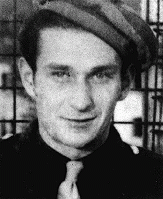 Michal Scislowski
Born: September 30, 1922
Siedlce, Poland
Michal was one of two children born to Catholic parents living in Siedlce, a large town some 65 miles east of Warsaw. Michal's father was an intelligence officer in the Polish army. Because his duty station frequently changed, the family lived in several towns along the Polish-Soviet border. As a child, Michal enjoyed photography and was active in the boy scouts.
1933-39: We were living in Wilejka, a town near Vilna, when the Germans attacked Poland on September 1, 1939. The Soviet army invaded from the east on September 17, and my father left with his unit to avoid being captured by the Soviets. My mother, sister and I remained in Wilejka. In school, my teachers were replaced by Russian army officers who taught us Russian and Communist Party doctrine.
1940-45: In 1940 I escaped to Warsaw in German-occupied Poland. My mother and sister joined me later and we opened a delicatessen outside of Warsaw. In September 1942 I was arrested by the SS, suspected, like many Polish youth, of being in the underground. I escaped, but was arrested again in March 1943 and held in Warsaw's Pawiak Prison. After interrogation and beatings, I was shipped to Auschwitz where I barely survived starvation, brutality and untreated pneumonia. In 1944 I was sent to the Flossenbürg camp in Germany.
Michal was liberated while on a death march to Dachau in April 1945. He worked with the U.S. Army for five years in Germany and France before immigrating to America in 1950.