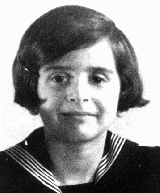 Ruth Freund Reiser
Born: April 11, 1926
Prague, Czechoslovakia
Ruth was a child of middle-class Jewish parents living in Czechoslovakia's capital, Prague, where her father worked as a bank clerk. As native Czechs, her parents considered themselves as much Czech as Jewish. In 1933 Ruth was in her second year at a public girls' secondary school.
1933-39: The Germans occupied Prague in March 1939 and imposed many restrictions. Jews were no longer allowed to attend school, so my education stopped at age 13. Jews had to surrender many of their possessions such as radios, bicycles, musical instruments, and pets. We weren't allowed to walk in certain streets, or to go to a park or a cinema, or use a bus or a street car. For me, normal life was at an end.
1940-44: I was deported to Auschwitz from the Theresienstadt ghetto in late 1944. Some weeks later I was selected for a labor transport. Wanting to be sure I'd get out of Auschwitz, I managed to stand near the front of the column of 1,000 women. Then a command of "Turn about!" dashed my hopes. I ended up at the back of the line with those to be gassed. Nobody slept that night as, expecting to be gassed, we waited in front of the crematorium. By a twist of fate, the next day I was put on another labor transport.
Ruth was deported to Lenzing, a subcamp of the Mauthausen concentration camp. Liberated by American troops, Ruth returned to Prague. She was the sole survivor of her family.