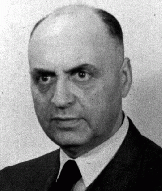 Abraham Soep
Born: April 17, 1892
Amsterdam, Netherlands
Abraham, known as "Bram," was born to a religious Jewish family in Amsterdam. After graduating from high school, Bram went into the diamond business with his father. By 1924 he and his wife, Tonie, had three children. Bram served as president of the Amsterdam Jewish community.
1933-39: The Soeps had a large and comfortable home. Bram and his wife often traveled abroad, and each summer the family rented a home near the seashore in Zandvoort. In 1937 Bram's son Benno joined him in the diamond business.
1940-44: The Germans occupied the Netherlands in 1940. One year later, Abraham was appointed to the Nazi-imposed Dutch Jewish council. The Soeps were deported in 1944 and eventually sent to the Bergen-Belsen camp, where the Germans wanted to use Abraham's expertise to help set up a diamond factory. When the diamond plan collapsed, the diamond workers were deported to death camps. Only the Soeps and one other family were kept alive in case the Germans still needed their business connections.
As the Soviets advanced, Bram and the other prisoners were loaded onto trains going west. He was liberated en route by Americans in April 1945.