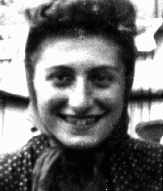 Dora Eiger
Born: January 24, 1924
Radom, Poland
Dora grew up in the industrial city of Radom, known for its armaments industry. Though fervently Jewish, her Yiddish-speaking parents differed from each other in that her mother was deeply religious while her father was not religious and was an ardent member of the Zionist Labor Party. Also known by her Jewish name D'vora, Dora attended Jewish schools and joined a Zionist youth organization.
1933-39: When Dora visited her uncle near the German border in 1936, she first noticed anti-Jewish placards and hate messages. In school her teachers told her that humanity was becoming more civilized. However, on September 8, 1939, the German occupation began. Dora was identified as a Jew on the new ID card she was issued. And before the year ended, she had to wear an identifying badge on her clothing.
1940-44: A German officer was billeted in Dora's home, but at least his presence protected her family from pillaging by Nazi bullies. In March 1941 Dora and her family were forced into a ghetto [Radom]. Germany seemed to be winning the war; they were young and decided to do as much living as possible. They would even violate the curfew in order to have fun. Those who worked and were useful to the Germans had a better chance to live. Dora had a job at the weapons factory, which saved her from being deported when the Germans destroyed the ghetto during 1942 and 1943.
Dora was deported to Auschwitz in July 1944. She was liberated at the Bergen-Belsen camp by British troops on April 15, 1945. In 1950 she immigrated to America.