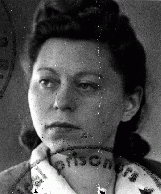 Eva Braun Levine
Born: July 6, 1916
Lodz, Poland
Eva was the second daughter of five children born to Jewish parents. Her father dealt in real estate, and the family owned the apartment building in which they lived. The building had an elevator, a luxury for that time. Eva finished high school, and she began working for her father and studying history at a small local university.
1933-39: Nightlife for young people was lively in Lodz, and I often went dancing with my boyfriend, Herman. In 1939 we married. Then the Germans invaded. One day, the Gestapo banged at our door. They slapped my father-in-law, demanding we hand over our valuable rugs. "The maid already took them," I protested. When they yelled back, I grabbed one man by the lapels: "Why don't you believe us? We're leaving! Here, see our suitcases?" They left.
1940-44: Herman and I were caught in the ghetto of Piotrkow Trybunalski after we arrived there in May 1941 looking for food. My family was deported there as well. For three years I worked with my mother and sisters in the ghetto; in November 1944 all the women were deported to the Ravensbrueck concentration camp in Germany. When we got off the train Nazis "examined" our crotches for hidden valuables. The work I did in the camp was so backbreaking that I lost tissue in my spine.
As the Allies advanced, the camp prisoners were evacuated to the Bergen-Belsen camp. There, Eva was liberated by the British in April 1945. She moved to the United States in 1950.