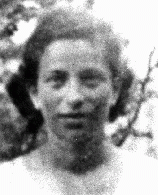 Idzia Pienknawiesz
Born: 1920
Kaluszyn, Poland
Idzia was the older of two girls born to Jewish parents who lived 35 miles east of Warsaw in the small predominantly Jewish town of Kaluszyn. Idzia's father owned a liquor store and her mother was a housewife. Idzia was close friends with a group of Jewish teenagers who went to the same public school and spent much of their free time and vacations together.
1933-39: Normally, Idzia goes out with her friends on pleasant summer evenings. They like to stroll down the main street together and visit the sweets shop. Sometimes they go to the school building, which is open at night for recreational activities, and play dominoes or checkers. But now, everyone is afraid that war will break out and is staying at home. Every day there's more news about border skirmishes between Polish and German forces.
1940-42: The Germans have occupied Kaluszyn. Acting under German orders, the town mayor has chosen a Jewish council which includes Idzia's father and her friend Majlich's father. They, in turn, chose Majlich, Idzia, and some other young adults to work on the Jewish sanitation committee. One of Idzia's jobs is to take women to the one remaining Jewish bathing facility in town so that they can wash themselves. They've already seen several cases of lice-borne typhus, and they're trying to limit the spread of the deadly disease.
In September 1942 Idzia's parents and some 3,000 other Jews were deported to a killing center. That December, 22-year-old Idzia was also deported to the same camp, where she perished.