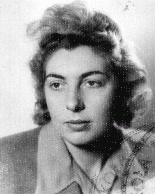 Lila Lam
Born: November 24, 1924
Stanislawow, Poland
Lila was born to a Jewish family in the largely Jewish city of Stanislawow. The Lam family owned an oil field and refinery, and Lila's father, who was trained as a lawyer, helped to manage the business. When it came time for Lila to begin first grade, her parents decided to have her tutored privately at home rather than have her attend an elementary school.
1933-39: The Jewish holidays were always special times. Although my family wasn't religious, the holidays were wonderful opportunities for my five aunts and uncles and all of my cousins to gather at my grandfather's house. In 1939, when I was 15, the war broke out and Soviet troops invaded Stanislawow. My final two years of secondary school were spent in a Soviet school.
1940-44: German troops invaded our town and established a ghetto in 1941. By summer 1942 my mother, brother, uncle and I escaped and, using bribes, got to Warsaw. Each Sunday we'd leave our house and pretend we were going to church. One Sunday, as my mother and I went out, we were stopped by a Polish policeman, who said he suspected that we were Jews. For a fee, he agreed not to turn us in. When my mother ran to fetch the money, he dragged me to a house and tried to rape me. Luckily, he let me go.
During the August 1944 Warsaw uprising, Lila was among the Polish civilians deported to concentration camps. After the war, she lived in Poland.