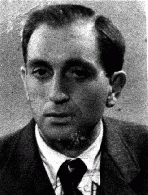 Chil Meyer Rajchman
Born: June 14, 1914
Lodz, Poland
Chil was one of six children born to a Jewish family in the industrial city of Lodz. His mother died before World War II, leaving his father to raise the family. Chil's father could not sustain the family financially, so Chil, as the eldest male child, went to work to help support his brothers and sisters.
1933-39: On September 1, 1939, the Germans invaded Poland. Chil fled Lodz with his younger sister to Pruszkow, a small town 10 miles southwest of Warsaw, where there were fewer restrictions on Jews. There was a ghetto there but it wasn't cordoned off. Three times a week they were taken to a railroad labor camp and forced to work--they were often beaten. When the Nazis liquidated the railroad brigades Chil was deported to the Warsaw ghetto.
1940-45: After several months in the Warsaw ghetto, Chil was transferred first to the Lublin area and then, in 1942, to the Treblinka killing center. When he arrived he heard a guard call out, "Who's a barber?" With nothing to lose Chil answered, "I am." He was handed scissors and marched to the gas chambers. Suddenly, a door at one end of the cell opened and screaming guards pushed naked women into the room and forced them to sit. Chil cut their hair in five snips, threw the hair in a suitcase and left the chamber before they were gassed.
In August 1943 Chil escaped from Treblinka during an uprising. He then hid until he was liberated by the Soviet army on January 17, 1945.