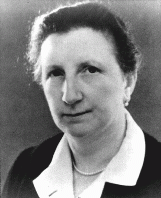 Gertrud Teppich
Born: February 12, 1880
Berlin, Germany
Gertrud, born Gertrud Herz, was one of three children born to a Jewish family in the German capital of Berlin. In her early twenties, Gertrud married Richard Teppich and the couple had two daughters. Richard owned and operated a dry-cleaning business.
1933-39: When Gertrud's husband died in 1931 she stayed on in their Berlin apartment. In 1938, five years after the Nazis came to power, Gertrud's oldest daughter, Ilse, and her family fled to Amsterdam. A year later her youngest daughter was able to leave for Switzerland on business, and rather than return to Nazi Germany she remained there. Gertrud was left alone in Berlin.
1940-42: During the war, Nazi edicts forced German Jews to sell their furniture and possessions to "Aryans" and then turn the proceeds over to the Nazi government. Gertrud's sister-in-law was an "Aryan" German and she helped Gertrud by "purchasing" the furniture, thus allowing Gertrud to keep her possessions. In November 1942 Gertrud received notice that she was being deported.
On November 18, 1942, Gertrud committed suicide rather than be deported.