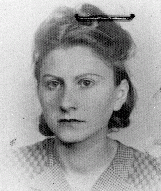 Gitla Zoberman
Born: March 11, 1917
Sandomierz, Poland
Gitla was the second-youngest of four girls born to observant Jewish parents. They made their home in Sandomierz, a predominantly Catholic town on the Vistula River. Her father owned a small bookstore across from the town hall, selling school texts and novels. Gitla attended public school before enrolling in a Catholic girls' high school. In the winter, Gitla enjoyed skating on the Vistula.
1933-39: In 1937 I moved to Katowice, a large town on the Polish-German border. There, I enrolled in a business college and lived with my sister, Hana, who worked as a pharmacist. In August 1939 we heard that the Germans would invade Poland. Hana and I decided to return to Sandomierz, where we thought we would be safer. On September 1, 1939, the Germans invaded Poland. They occupied Sandomierz two weeks later.
1940-44: After one year in the Pionki labor camp, my father and I escaped to Warsaw. My sister Irene, whose Aryan features and good Polish let her pass as a Christian, arranged our way to the city, aided by a Polish man she'd hired. In Warsaw, I stayed locked in Irene's apartment while she worked. After we dyed my dark hair blonde, I got a job as a dishwasher. I had false ID and wore a cross. My disguise failed. A boy on the streetcar pointed at me and yelled "Kike," an insult for Jews. I never left the apartment again.
Gitla was deported to Stutthof and Gross-Rosen camps, before being liberated by Soviet forces in January 1945. Her sisters, mother, and father all survived.