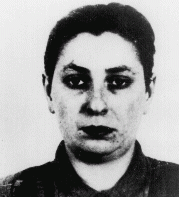 Henny Schermann
Born: February 19, 1912
Frankfurt am Main, Germany
Henny's parents met in Germany soon after her father emigrated from the Russian Empire. Henny was the first of the Jewish couple's three children. The family lived in Frankfurt am Main, an important center of commerce, banking, industry and the arts.
1933-39: After the Nazis came to power, they began to persecute Jews, Roma (Gypsies), men accused of homosexuality, people with disabilities, and political opponents. In 1938, as one way of identifying Jews, a Nazi ordinance decreed that "Sara" was to be added in official papers as a middle name for all Jewish women. Twenty-six-year-old Henny was working as a shop assistant, and was living with her family in Frankfurt.
1940-44: In early 1940 Henny was arrested in Frankfurt and sent to the Ravensbrück concentration camp for women. On the back of her prisoner photo was written: "Jenny (sic) Sara Schermann, born February 19, 1912, Frankfurt am Main. Unmarried shopgirl in Frankfurt am Main. Licentious lesbian, only visited such [lesbian] bars. Avoided the name 'Sara.' Stateless Jew."
Henny was among a number of Ravensbrück prisoners selected for murder. In 1942 Henny was gassed at the Bernburg killing facility.